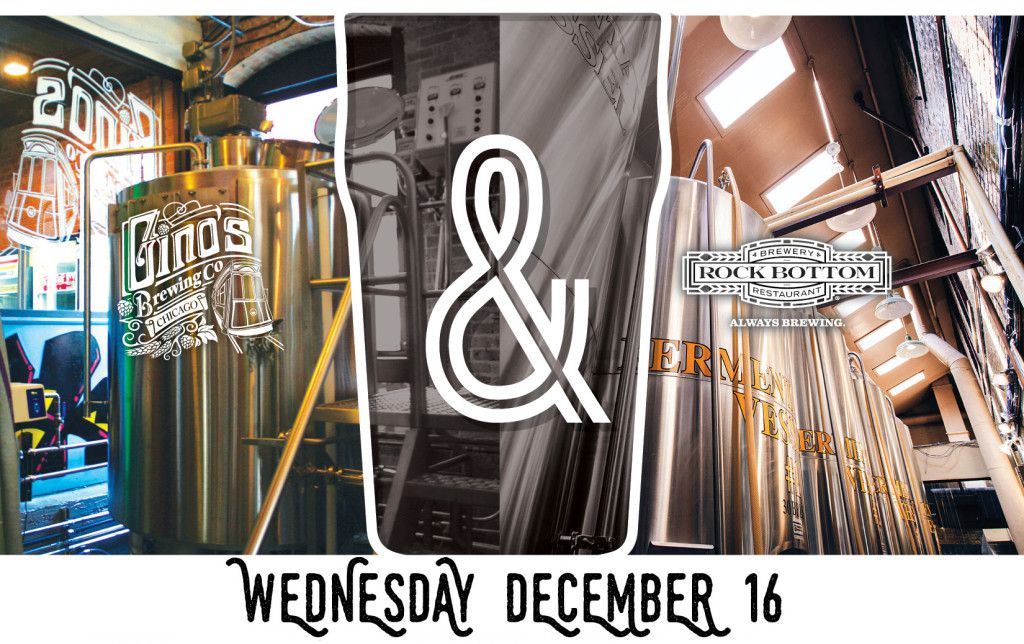 Gino's Brewing Company, located on the first floor of Gino's East River North (500 N. LaSalle), is teaming up with Rock Bottom Brewery Chicago (1 W Grand Ave) on Wednesday, December 16 for a unique craft beer experiment to unveil the myths behind the age-old brewing process of decoction mashing.
Before malted barley was well modified, a portion of the mash was boiled to achieve a consistent brew in a process known as decoction mashing. These days, single infusion mashing is more common yet some brewers continue to decoct. Why? Some swear by a fuller flavor imparted by boiling the grain. However, others think that in this day and age, decoction mashing is a big waste of time.
QuestTeam_blogThis collaboration between Gino's Brewing Company's brewmaster Kevin McMahon and Rock Bottom Brewery Chicago's head brewer Hayley Shine is the true essence of nerdy brewer futility. The two have worked together to create two versions of a German style Bock. Gino's Brewing Company's Decoct-A-Bock uses a single decoction mash and Rock Bottom Brewery's Undecoct-A-Bock is made with a single infusion mash. Their only mission is to settle once and for all if there is a difference in the color, aroma or flavors between the two methods.
"The spirit of collaboration in our community fosters creativity, paves the way for innovative and unique creations by offering brewers the opportunity to share professional techniques and experiences." says Kevin McMahon. "I am excited to work with such an accredited and respected brewer like Hayley Shine of Rock Bottom Brewery to not only collaborate and share the spirit of creativity between two brands, but to also create a beer that puts an age old brewing practice to the test in our modern age of brewing. It gives a "Mythbusters"-esque angle to this project that I find fascinating. I can't wait to try these beers side by side."
On Wednesday, December 16 guests are invited to sample the collaborative craft beers side-by-side for $3 during Happy Hour and $4 after Happy Hour. First, head to Gino's East River North and enjoy a Decoct-A-Bock in a Gino's Brewing Company pint glass alongside a sampler of the Rock Bottom Undecoct-A-Bock. Then, head over to Rock Bottom Brewery Chicago for a pint of the Undecoct-A-Bock alongside a sample of the Decoct-A-Bock. You be the judge! Visit both locations to compare the flavor profiles of each brewing method and collect both souvenir pint glasses.
Gino's Brewing Company's Happy Hour runs from 2 – 6 p.m., and they will remain open until 10 p.m. Rock Bottom's Happy Hour runs from 3:30 – 6:30 p.m., and closes at 2 a.m.
Listen to the Indecent Exposure Podcast, hanging with our Brewmaster Kevin and special guest Hayley Shine of Rock Bottom Brewery Chicago, as they discuss their collaboration beer. ( Caution: Explicit Language)
For more information on Gino's Brewing Company or Gino's East River North or to make a reservation, visit www.ginoseast.com.