GAME ON! If you're hositng a game day party, keep reading for perfect tips and tricks on how to have your audeince saying your party was a touch down!
Part One: The Decor
Whether you're going to spend hours cutting out football shapes and taping them to your wall, or do nothing at all, your game day decor is unique to you! We got all of our inspiration (and more!) from Glue Sticks Blog. This fantastic array of football decor leaves no stone unturned. From the yard line table cover to the football ballons, you can head over to their blog to get the full instructions for this party!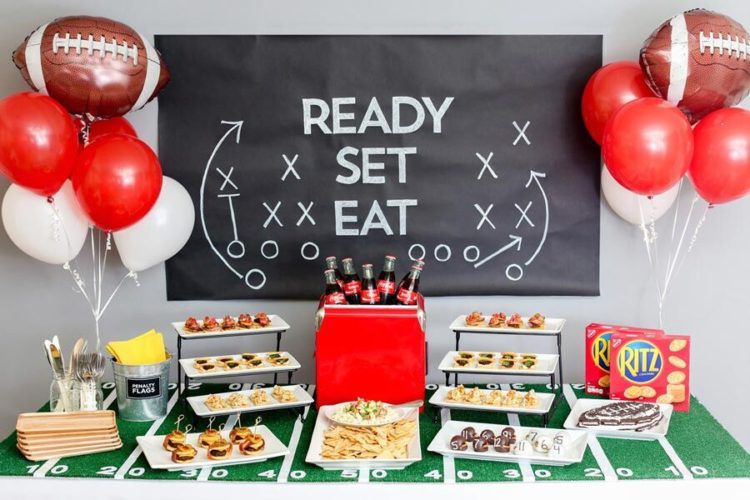 Part Two: The Food
Making food for a party can be a daunting task. Between the time to set up the party, make the drinks, and get yourself ready, who has time for food? That's where Gino's East comes in! With our new mobile app, you can get our menu delivered to your doorstep. See our tips below for the best way to feed a hungry crowd:
Sticks and Dip Plate: A great way to have a little taste of everyting, our Sticks And Dips plate has our breadasticks, mozzerella sticks, and spinach mozzerella sticks served with your chouce of three dipping sauces. Everyone wins with this option!
Spinach Artichoke Dip: Ready to hear nothing except for "mmmmmm"? Order our Spinach and Artichoke dip! This hearty, warm dip is the perfect start to your party.
Deep Dish Pizza: Did you really think we were't going to include deep dish? An easy way to feed a crowd, our deep dish has been a party staple since 1966! Be a party hosting hero.
Thin Crust Pizza: That's right, the only thing better than pizza is more pizza! The perfect addition to any party, our thin crust pizza is a crowd pleaser!
Part Three: The Drinks
If your party is going to have drinks, beer or a premade drink is the way to go! Keeping it simple will be easy for not only you, but for guests when choosing their drink. Follow some of these tasty recipes, from Men's Journal, to make your party a smash!