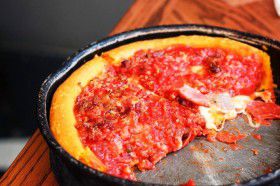 Gino's East is proud to announce the opening of our newest location in South Barrington on January 28, 2014. Our newest Gino's is joining the cozy Millrose Restaurant space. You lucky folks in the area will be enjoying some local specials, the historic and unique location, and of course the classic Chicago experience without the trip.
A Historic Building
The location for the South Barrington Gino's has an interesting story to it. The original restaurant on the location Millrose was the work of William R. Rose, the owner of Rose Packing Company. This meat packing company is five generations strong and has been providing a variety of products to local markets since 1924. The Rose family is particularly known for their Canadian bacon one of their first items they produced, hence adding this famous ham to the soon to be famous Meaty Legend. William Rose, wanted to exhibit the variety of ways his products could be used and so built up a place for a restaurant to capture this it finally opened in 1991. The area itself is actually a farm a small scale airport and a historic part of South Barrington. To add a separate area for the Gino's front, six 150 year old barns where moved. The inside of this location has century old cathedral style ceiling. A rustic yet elegant stone fireplace stands at the far end of this dining area. Five private halls are available for personal events, and come spring the outdoor seating area, with fire place, will let you enjoy this great area and our great pizza.
Hours
Mon-Thurs : 11am-10pm
Friday and Saturday : 11am –11 p.m.
Sunday: Noon-9 p.m.
Address
45 S. Barrington Rd., South Barrington, IL 60010
Phone
(847) 304-4466